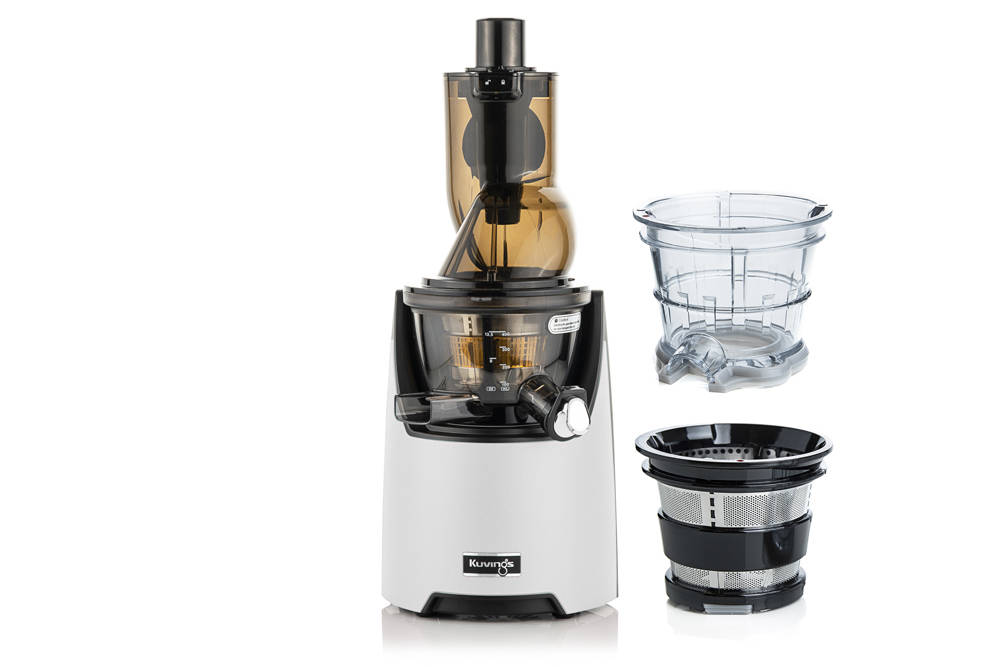 Kuvings EVO820 Evolution Exclusive (white)
Kuvings Evolution Exclusive set includes extra screens for smoothies and homogenizing.
Availability
Delivery by 28.8.2019
Choose your gift
Gloves for cleaning vegetables
Use to remove dirt and loose skin, rinsing and cleaning carrots, parsley root, turnips, and many other vegetables.
Sana Digital Kitchen Scale
Compact digital scale with an elegant design.
Sana Digital Kitchen Scale
- large LCD display
- high precision strain gauge sensor
- calendar / clock / alarm clock / thermometer / hygrometer
- measures the volume of water and milk
- two unit systems: g(kg)/lb
- can zero out the weight of the container and allow exact measurements
- overload indicator / low battery


Technical specification
- Max. load capacity: 10 kg
- Power supply: 2 x 1.5V AAA (not included)
- Color: white
- Dimensions: 220 x 175 x 19 mm
- Weight: 530 g
- Materal: tempered safety glass
- Warranty: 2 years
Peeler
High quality peeler for fruits and vegetables.
Cleaning brush
Cleaning brush for fruits and vegetables.
Vacuum Jug (1 liter)
For storing freshly squeezed juices.
Citroclean cleaner 1l
Special cleaner for cleaning juicers and citrus juicers.
It´s not possible to send this product outside of EU, Norway, Switzerland and Cyprus.
Product description
Kuvings Evolution EVO820
The third generation wide-mouth vertical slow juicer from Kuvings - the inventor of the wide-mouth feeding tube. The widest feeding tube available on a consumer juicer, premium textured finish, and newly-designed juicing assembly are among the highlights. The Exclusive model includes a homogenizing screen and smoothie screen which turns your Evolution juicer into a food processor.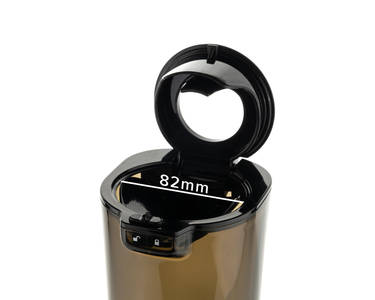 Kuvings EVO820 feeding tube
The widest feeding tube available
Using a flip-top "trap door" feeding tube, Kuvings has eliminated the safety blade found in previous models. This makes it easier to feed large produce like whole apples as they simply roll into the juicing bowt instead of having to be pushed through the safety blade. The opening is also significantly larger - 82mm versus 76mm in their C9500.  The flip top also has a smaller circular opening in it, so you can feed longer items like carrots or celery directly into it without having to cut them into lengths suitable for the trap door.  Kuvings' 240 watt motor is the most powerful in its class, and has no problem with even hard produce like root vegetables.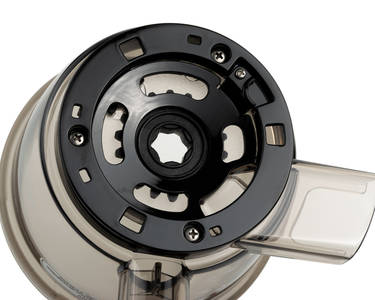 drum bottom template pic
An evolution in juicing
The name "Evolution" demonstrates Kuving's thinking behind this model. It is an evolution of their best-selling C9500 juicer, with a series of small improvements that add up to make it the best wide-mouth juicer on the market. For example, the juicing chamber is noticeably more solid and durable, with stronger materials and a new four-point connection to the motor base. This creates more stability which is needed when juicing large and firm produce like carrots and beets. The pulp outlet has been made larger with a big cutout in the top for easier cleaning. And all the things that made the C9500 so successful, like the juice tap and the integrated cleaning system, have been carried forward into the Evolution.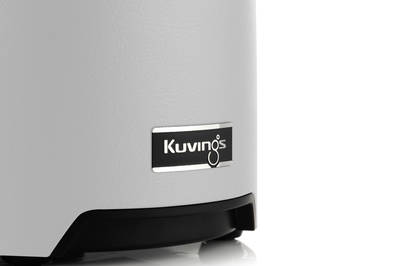 Kuvings EVO820 white body detail
New textured design
Kuvings has made a design worthy of being called premium in the new Evolution. Rather than having a shiny plastic finish, the Evolution is clad in a textured leather-like finish which wraps around the front of the juicer. The jucing bowl sits in the juicer firmly, and the symetrical design creates a very balanced look. Weighing in at 7.1 kg, the Evolution is impressively hefty and conveys a very solid feel. Part of this is due to the class-leading 240 watt brushless motor which is carried over from the C9500, which is even quieter here due to the more sound insulation.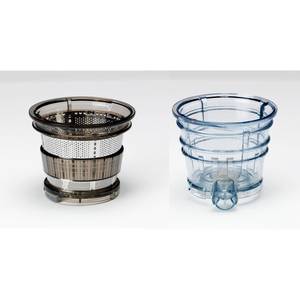 Kuvings EVO820 extra screens 1
Includes homogenizing and smoothie screens
The Exclusive model adds to the versatility of the Evolution juicer with two additional processing screens. The smoothie screen gently presses items but doesn't remove the pulp. This makes it perfect for making things like banana berry smoothies or other mixtures of fruit and nut or dairy milk. The homogenizing screen crushes without straining, making it ideal for creating delicious nut butter, banana based ice cream, and frozen fruit sorbet. 
Main features
82-mm dual hopper - the widest feeding tube in a home juicer
New reinforced juicing chamber for superb durability
Extra wide open pulp outlet for easy cleaning
Even quieter operation
Powerful 240-watt 60-rpm brushless motor
Cold-press juicing system minimizes foam and oxidation
Integrated juice tap for mixing juices and easy cleanup
BPA-free
Custom cleaning brushes included
Made in South Korea
Parameters
Manufacturer

Color

White

Country of origin

South Korea

RPM

60 RPM

Power

240 Watts
Dimensions

49 x 24 x 20 cm

Weight

7.1 kg

Warranty (motor / parts)

36/36 months

Juicing Process

Single auger
Any question
to related product?
Ask us now in discussion.
Discussion
Any question
to related product?
Ask us now in discussion.