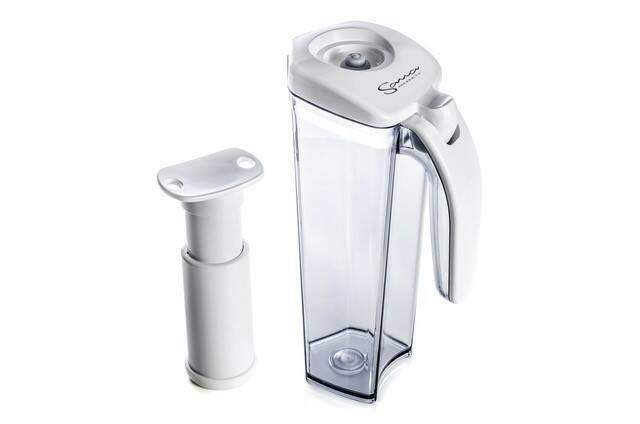 Sana Vacuum Pitcher
The best way to keep your juice or smoothie fresh. Includes vacuum pump.
Availability
Delivery by 3.10.2023
Product description
Sana Vacuum Pitcher
Juices and smoothies begin oxidizing immediately after they are made. That is why they should be consumed as soon as possible. When that isn't possible, you can "beat the system" by removing air with the Sana vacuum pitcher. Using the included pump, air is removed from the pitcher, dramatically extending the life and freshness of your juice or smoothie. The 1-litre slimline vacuum pitcher is designed to fit into the refrigerator door shelf. The pitcher is BPA-free and dishwasher safe.
How to use

using of vacuum jug
Fill the pitcher to maximum 1.5 mm below the top.
Close the pitcher with the lid and place the vacuum pump on the valve located in the centre of the lid.
Remove the air from the pitcher by pumping several times until resistance is noticeable. 
To open the pitcher, press the valve in the centre of the lid. You will hear the air being released.
What you should know
To ensure that vacuumed food remains fresh, check every few days that the vacuum seal is still intact. The best way is to pump it a few more times until it becomes difficult. The vacuum within the container does not prevent bacterial growth. For this reason, perishable goods must be stored in the fridge after vacuuming.  However, the life of these products is considerably extended.
Parameters
Manufacturer

Color

White

Dimensions

27 x 14,5 x 10 cm
Warranty (years)

2 years
Would you like to know more
about this product?
Ask us now in discussion.
Discussion
Would you like to know more
about this product?
Ask us now in discussion.