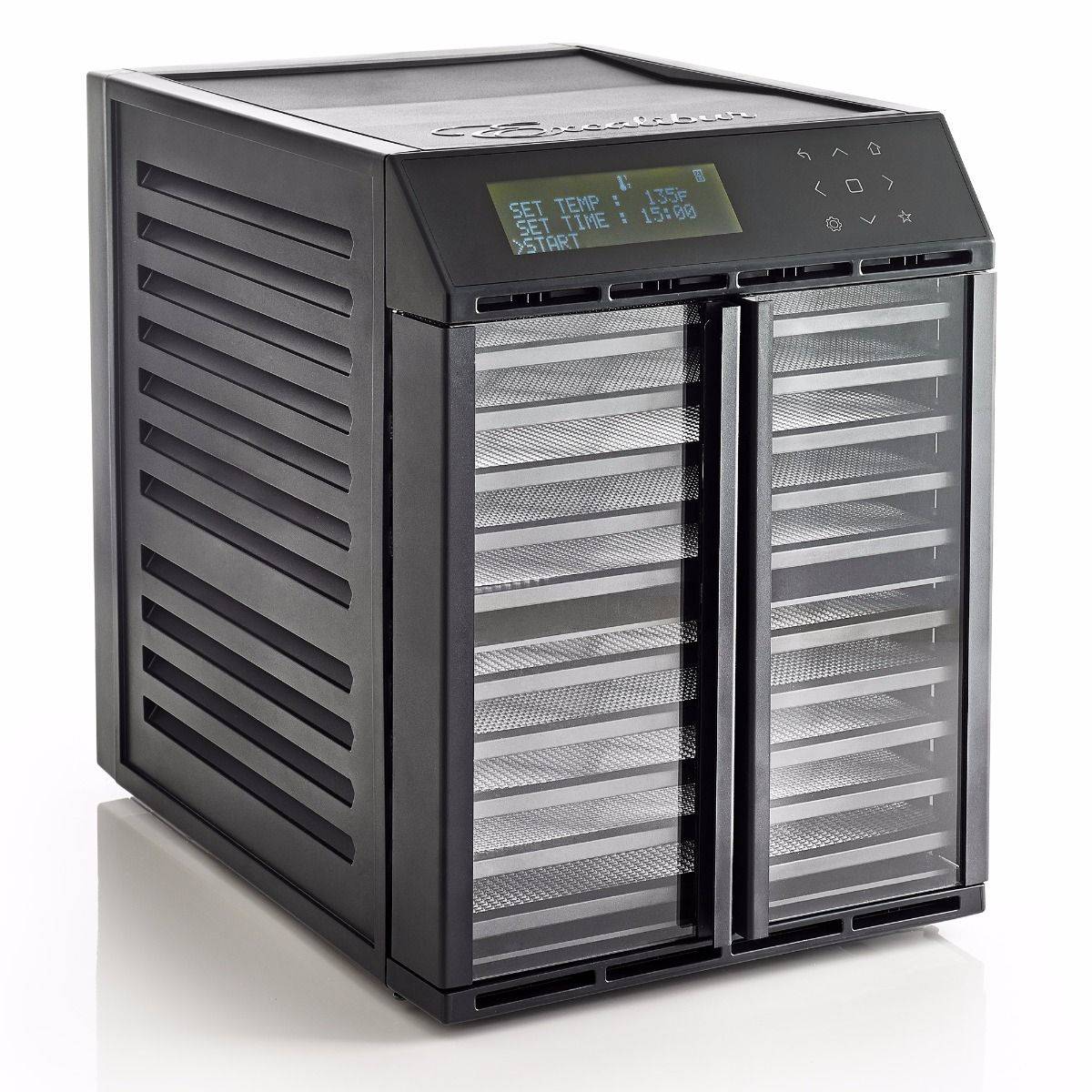 Excalibur dehydrator RES10
Excalibur 10-tray dehydrator with two drying zones and digital controls. Drying area 0,82 m2.
Availability
Delivery by 28.8.2019
Choose your gift
Gloves for cleaning vegetables
Use to remove dirt and loose skin, rinsing and cleaning carrots, parsley root, turnips, and many other vegetables.
Sana Digital Kitchen Scale
Compact digital scale with an elegant design.
Sana Digital Kitchen Scale
- large LCD display
- high precision strain gauge sensor
- calendar / clock / alarm clock / thermometer / hygrometer
- measures the volume of water and milk
- two unit systems: g(kg)/lb
- can zero out the weight of the container and allow exact measurements
- overload indicator / low battery


Technical specification
- Max. load capacity: 10 kg
- Power supply: 2 x 1.5V AAA (not included)
- Color: white
- Dimensions: 220 x 175 x 19 mm
- Weight: 530 g
- Materal: tempered safety glass
- Warranty: 2 years
Peeler
High quality peeler for fruits and vegetables.
Cleaning brush
Cleaning brush for fruits and vegetables.
Free shipping to continental EU countries
Free shipping to all continental EU countries. For other countries, shipping costs will be shown in the cart.
Product description
Excalibur dehydrator RES10
The RES10 is Excalibur's most flexible dehydrator. That's because it has two individual drying chambers, each with their own fan and thermostat. It's like having two dehydrators in one.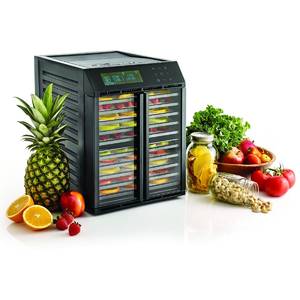 Excalibur dehydrator RES10
Dual-zone drying
A removable horizontal inner divider lets you create an upper and lower drying chamber, each with their own fan and thermostat. This gives you the ultimate flexibility with ingredients. You could dry apples in the lower chamber with their own time and temperature settings, while you dry beef jerky at a higher temperature in the upper chamber. Digital controls with an easy-to-read blue display makes programming fast and simple. Each zone can be set for 1 or 2 time durations and 1 or 2 temperature settings for variable food drying needs and to speed up the drying process. You can also program and save 30 of your favorite recipes.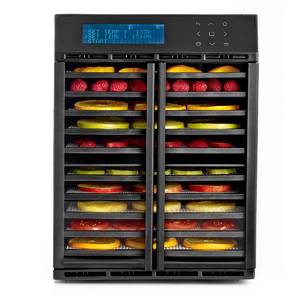 Excalibur dehydrator RES10 front view
Digital 99-hour timer and two temperature settings
The Excalibur RES10 offers an adjustable digital thermostat from 29.4°C to 74°C. This gives it the flexibility to do low temperature or raw cooking, preserving the active enzymes and nutrients in ingredients. It also is high enough for safe dehydrating of meat for jerkey or pet treats.The two-time, two-temperature system means you can set an initial short higher-temperature drying period followed by a long low-temperature drying period, according to your recipe. And the 99 hour timer means you can set the times and temperatures and let the RES10 do the rest. You can leave it knowing that it will shut off or change temperatures automatically.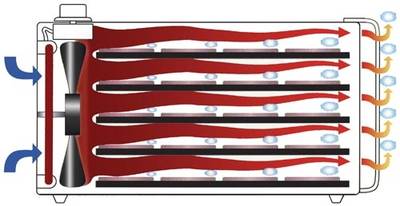 Excalibur Parallexx system
Parallexx® Horizontal AirFlow
Unlike cheap dehydrators using stackable trays with a hole in the middle, the RES10 uses Excalibur's Parallexx® Horizontal AirFlow system. This means that heat flows from the back horizontally across the trays, ensuring uniform drying results. The BPA-free trays pull out horizontally, like in an oven. You can access any individual tray without unstacking. The motor is protected from any spills, and cleanup is simple. Just remove the bottom tray for easy and fast cleaning.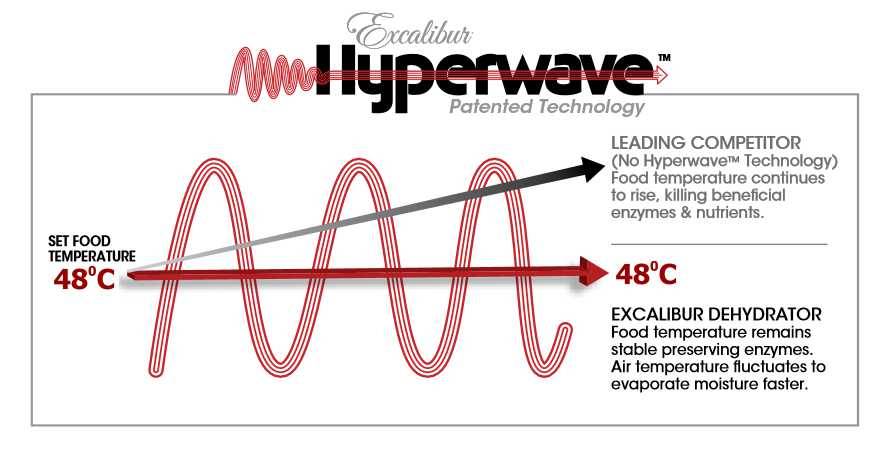 Hyperwave
Main features
10 trays
2 drying zones
99-hour timer
550 watts
Dual individual fans
Parallexx® Horizontal AirFlow
2 time / 2 temperature settings
Temperature range from 29.4°C - 74°C
Program and save 30 recipes
Made in the USA
Parameters
Manufacturer

Color

Black

Country of origin

USA

Timer

Yes

Dimensions

40,6 x 30,5 x 45,7 cm
Weight

9,6 kg

Number of trays

10 pcs

Drying area

0,82 m2

Warranty (motor / parts)

60 months
Any question
to related product?
Ask us now in discussion.
Discussion
Any question
to related product?
Ask us now in discussion.