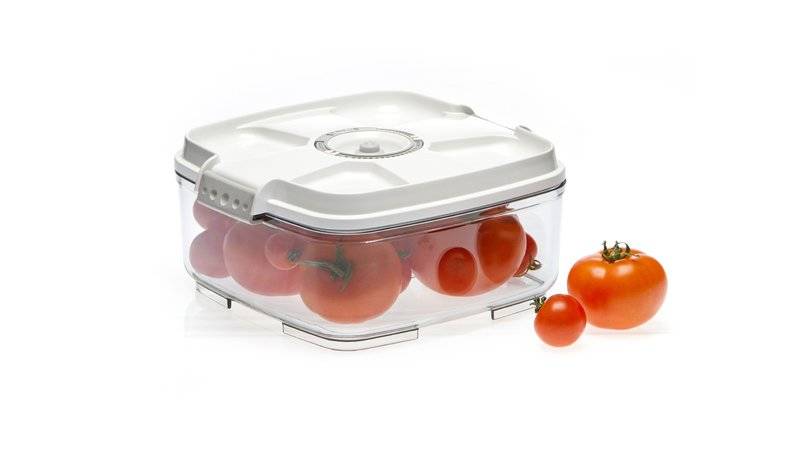 Vacuum Container 2l
The best way to keep food fresh. Includes vacuum pump.
Availability
Delivery by 6.4.2020
Product description
Vacuum Container 2l plus pump
Vacuum container made of transparent materials helps you organize your refrigerator and shelves. Meat, poultry and fish are marinated in minutes as vacuum storage allows marinade to penetrate into the food faster. Container is suitable for use in the freezer. Set includes hand-held vacuum pump.
vacuum container
Bigger square container is perfect for vacuum storing
dried food
fruit and vegetables
pasta, rice and flakes
flour etc.
What you should know
To ensure that vacuumed food remains fresh, check every few days that the vacuum seal is still intact. The best way is to pump it a few more times until pumping becomes difficult. The vacuum within the container does not prevent bacterial growth. For this reason, perishable goods must be stored in the fridge after vacuuming.  However, the life of these products is considerably extended.
The vacuum container and lid should be cleaned prior to initial use. It can be cleaned with dish soap or in the dishwasher. The container is made from BPA-free materials.
Parameters
Manufacturer

Color

White

Dimensions

22 x 22 x 11 cm
Warranty (years)

2 years
Any question
to related product?
Ask us now in discussion.
Discussion
Any question
to related product?
Ask us now in discussion.