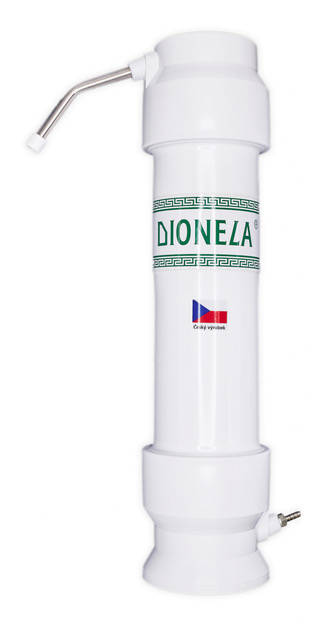 Dionela FDN2 countertop filter
Two-stage filtration plus nitrate removal. Cleans impurities and makes great-tasting water.
Availability
Delivery by 3.6.2019
Product description
DIONELA FDN2 COUNTERTOP WATER FILTER
Dionela water filters are a quick and cost-effective solution for improving the quality of water in your household for drinking, preparing beverages, and cooking. The countertop version sits in a base next to the sink and has its own spigot, elminiating the need to purchase a separate faucet. The filtration rate of 1.5 liters per minute offers a ready supply of filtered water for immediate use.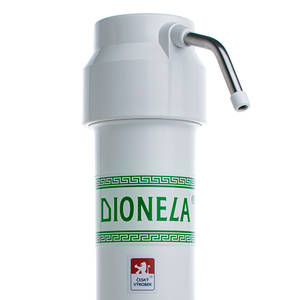 Filtrační vložka FDN2
FDN2 Filtration for high nitrates
The FDN2 has all the same capabilities as the FAM1 filter, plus it can remove higher levels of nitrates. It uses a two-stage system to effectively purify your water.  The first stage is a textile-based system which removes physical impurities including dirt, sand, rust, and metal pieces from pipes. The second stage uses bacteriostatically treated granular activated carbon to remove dissolved substances including chlorine, radon, heavy metals, organic substances, detergents, and pesticides. It also improves the taste, clarity, and color of water.
The FDN2 filter is suitable for water with nitrate levels over 50mg/L. For lower nitrate levels, use the Dionela FAM1 filter. If you also want to reduce water hardness, use the Dionela FTK3.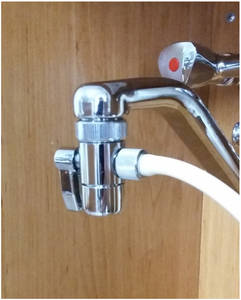 připojení
Simple hookup
Connecting the Dionela water filter requires an adaptor (not included) depending on the type of faucet you have:
For sink-mounted faucets:
Connect at the end of the tap with this screw on adaptor with lever
Connect at the end of the tap with this screw on adaptor with pull tab
For wall-mounted faucets: You can connect the same way as sink-mounted faucets, or you can use a 1/4" adaptor (available at plumbing and hardware stores) depending on the type of wall-mounted sink you have. See photos in gallery which show two different types of wall-mounted sincks and adaptors.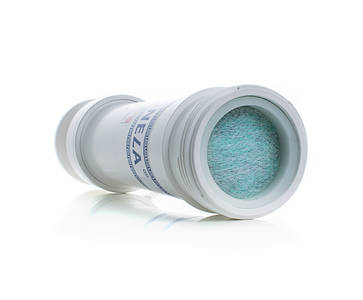 Dionela filtr
Replaceable filter
The lifespan of nitrate filters depends on the level of nitrates in the water. In any case, the lifespan of any nitrate filter is much lower than standard FAM1 filters. See the chart below for the approximate capacity before replaceing, depending on the nitrate level.
Nitrate level (mg/l) / Filter capacity (liters)
  15 | 1600
  25 | 1140
  40 | 760
  60 | 550
  80 | 410
100 | 350
150 | 240
200 | 170
To save money, the filter can be sent in for replacement. The internal filtration elements are removed and replaced for a fraction of the cost of a new filter.
PACKAGE CONTENTS:
FDN2 filter cartridge
Filter cartridge stand
Spigot on filter
Silicone conneciton tubing (1 meter)
Nitrate level test kit
Any question
to related product?
Ask us now in discussion.
Discussion
Any question
to related product?
Ask us now in discussion.