Catalog number: VIDIA2SEU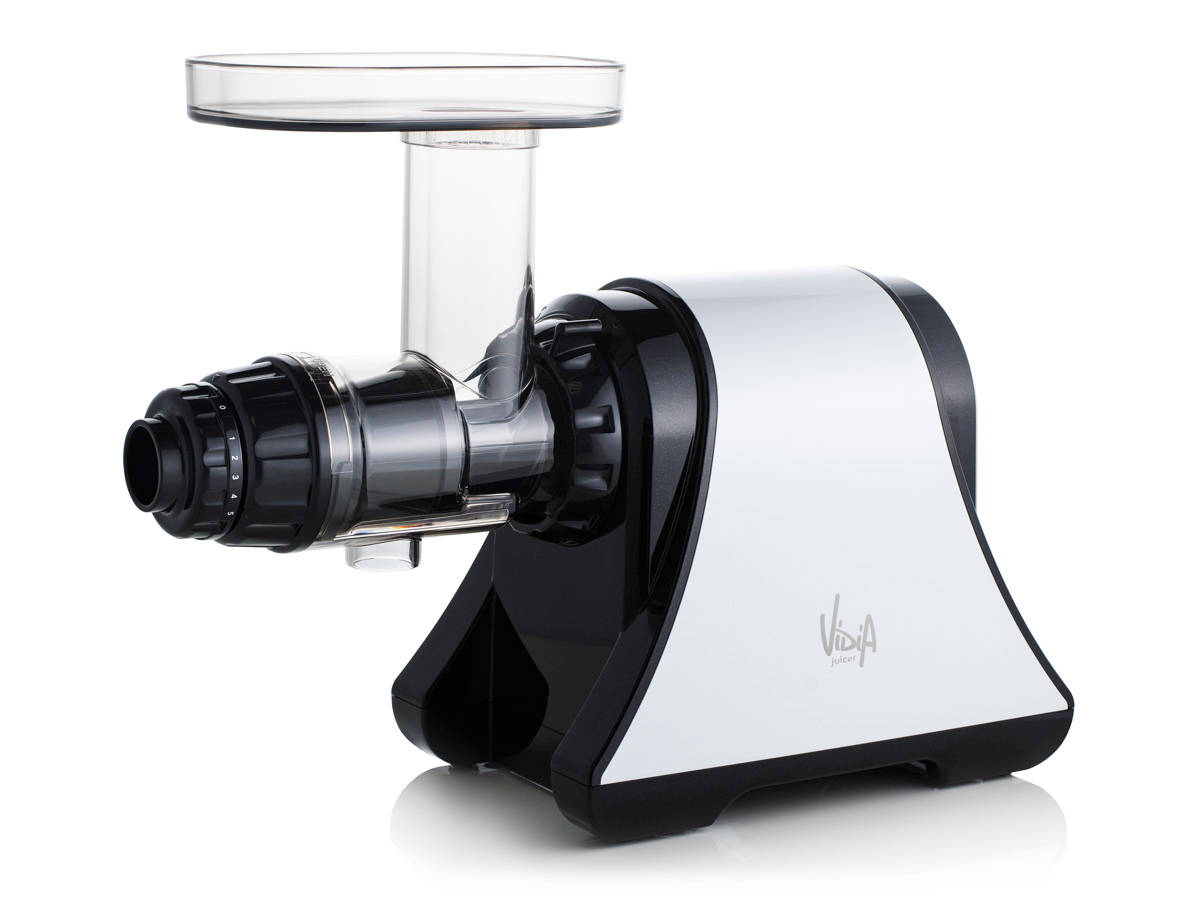 Vidia SJ-002 horizontal juicer (silver)
Our choice for the best value juicer. High performance from South Korea at a great price.
Availability
Delivery by 26.7.2019
Choose your gift
Gloves for cleaning vegetables
Use to remove dirt and loose skin, rinsing and cleaning carrots, parsley root, turnips, and many other vegetables.
Peeler
High quality peeler for fruits and vegetables.
Cleaning brush
Cleaning brush for fruits and vegetables.
Product description
Vidia SJ-002 horizontal juicer
Made in South Korea from high-quality materials, the Vidia SJ-002 is our choice for best value juicer. It can do a wide variety of tasks and is built to last.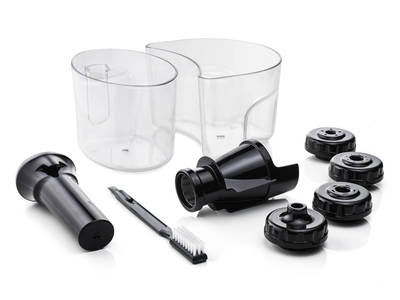 Vidia SJ-002 horizontal juicer accessories
Juice and more
With it's slow-speed single-auger system, the Vidia SJ-002 makes excellent juice. Everything from carrots to apples to leafy greens, the Vidia's auger-system makes delicious healthy juice with none of the oxidation or foam found in high-speed juicers. The pressure regulation knob gives increased yield by letting you vary the pressure, allowing you to set less back pressure for soft fruits and more for things like carrots or leafy greens. In addition, a homogenizing screen is included which lets you make things like nut butters, almond milk, baby food, and even grind coffee. A set of pasta nozzles is also included, allowing you to extrude different shapes of noodles. Jsut put in dough and watch the pasta come out.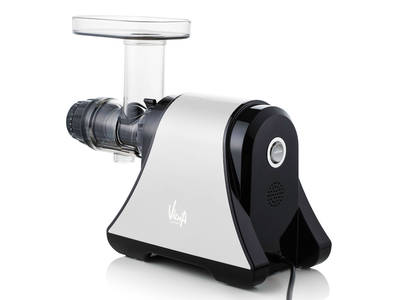 Vidia SJ-002 horizontal juicer silver back view
Compact and sturdy
The Vidia SJ-002 has a simple "industrial" design that is functional as well. The widely-spaced feet and low center of gravity make it very sturdy, and the juicer has a very solid feel at 6.2 kg. Unlike cheap competitors made in China, the Vidia is made in South Korea along with other premium brands like Hurom and Omega.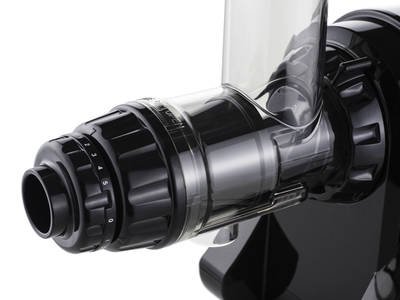 Vidia SJ-002 horizontal juicer pulp regulation
Simplicity in juicing
The Vidia SJ-002 is designed to be simple and easy to use. The only controls are the ON/OFF switch and the pulp regulation knob. Simply turn it on, turn the regulating knob to the desired level (we usually leave it at the middle setting), and insert your fruits and vegetables. Cleanup is fast and easy as well. The juicing parts are rinsed under running water, and any pulp particles in the juicing screen are quickly removed with the included brush. Overall it cleans up in about 2-3 minutes, depending on what you juiced.
Main features
Slow-speed single-auger system minimizes foam and oxidation
63-rpm quiet operation
Powerful 200 watt motor
Pulp regulation knob for highest yield
Homogenizing screen for nut butters, almond milk, sauces, and more
Pasta set for a variety of noodle shapes
Wide feeding tube with large produce tray
Built in South Korea
Parameters
Manufacturer

Color

Silver

Country of origin

South Korea

RPM

63 RPM

Dimensions

42 x 16.7 x 32 cm
Weight

6.2 kg

Warranty (motor / parts)

24/24 months

Juicing Process

Single auger
Any question
to related product?
Ask us now in discussion.
Discussion
Any question
to related product?
Ask us now in discussion.