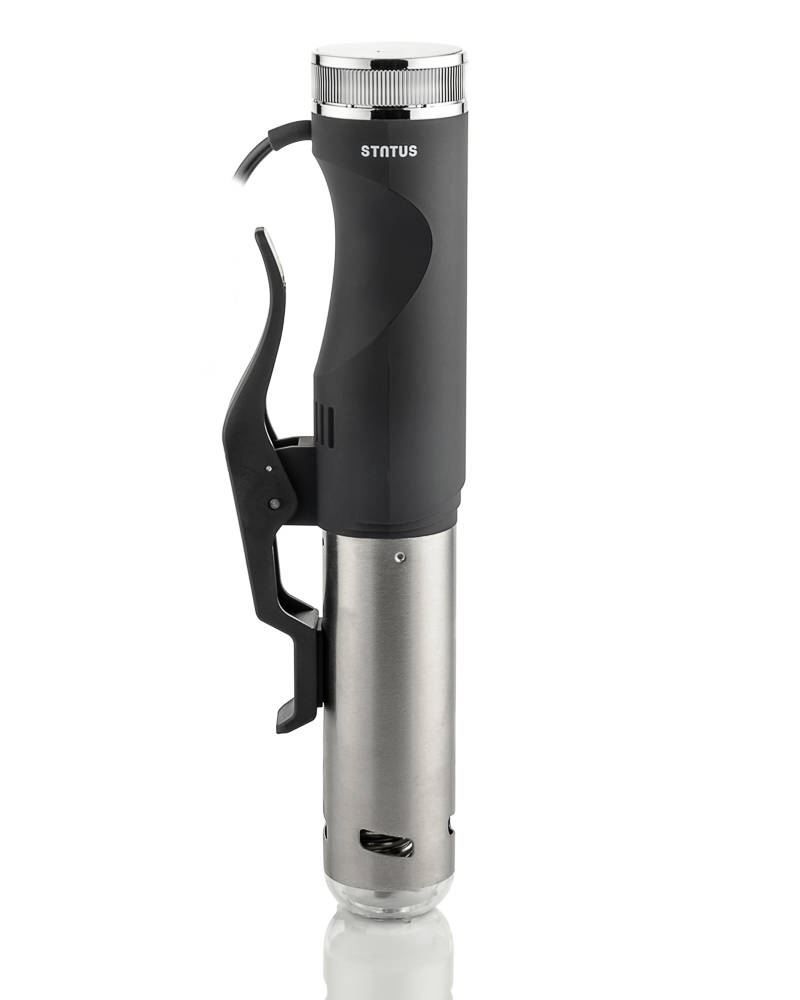 Status Sous Vide Cooker SVC100
Cook at home using the same sous vide technology used by professional chefs.
Availability
Delivery by 28.8.2019
Product description
What is Sous Vide?
Sous vide is French for "under vacuum." It refers to cooking vacuum sealed foods in water at a very precise temperature. This method is commonly used by professional chefs in expensive restaurants to achieve the best results with meat, chicken, fish, vegetables, and eggs. Slow cooking in vacuum bags seals in the flavor, making it the most tender and juiciest cooking method. Until recently, the only sous vide circulators were expensive commercial devices costing thousands of dollars. Now it is possible to buy units designed for home cooking at very reasonable prices.
What is needed for sous vide cooking?
Since sous vide involves cooking vacuum-sealed foods in water, there are three tools needed:
A large pot to hold water (generally anywhere from 6-12 liters)
A sous vide circulator to heat and evenly distribute the water 
A vacuum sealer (we recommend the Vidia Vacuum Sealer since its integrated scale lets you measure food precisely)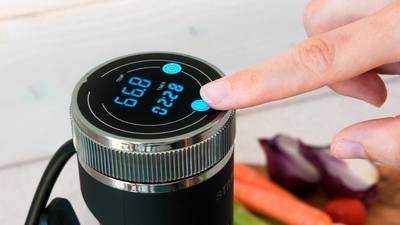 SVC100 Sous vide circulator 6
Simple interface
The SVC100 sous vide circulator uses a simple digital interface to precisely enter the time and temperature needed, depending on the type of food you are cooking. Enter the time and temperature using the rotating scrolling collar, and press the "settings" button to enter it. It will continually display the time remaining and the current temperature of the water, and will beep when cooking is finished.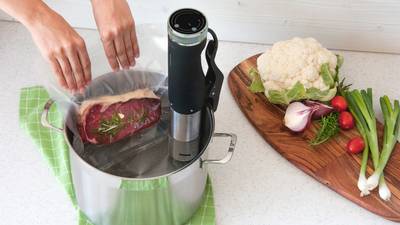 SVC100 Sous vide circulator 4
How it works
The Status SVC100 circulator makes sous vide cooking simple. First, fill a pot with water and attach the circulator to the pot with the attached clamp. Then set the desired time and temperature of the SVC100. It will begin heating and circulating the water. While it's heating, season and vacuum seal whatever food you are cooking, then add them to the pot. That's it! The SVC100 will beep when your food is ready.
Features at a glance
Digital controls
Rotating sliding collar to enter time and temperature
Temperature accuracy within 0.1°C
Gentle pump with pot capacity from 6 - 15 liters
Stainless steel construction
Parameters
Manufacturer

Color

Stainless Steel

Water circulation rate

8 liters/min

Temperature stability

+/- 0.1 C

Temperature range

Up to 90C °C
Timer

Yes

Power

800 Watts

Dimensions

11 x 39 cm

Weight

1.18 kg
Any question
to related product?
Ask us now in discussion.
Discussion
Any question
to related product?
Ask us now in discussion.