Catalog number: SDE-S6780-F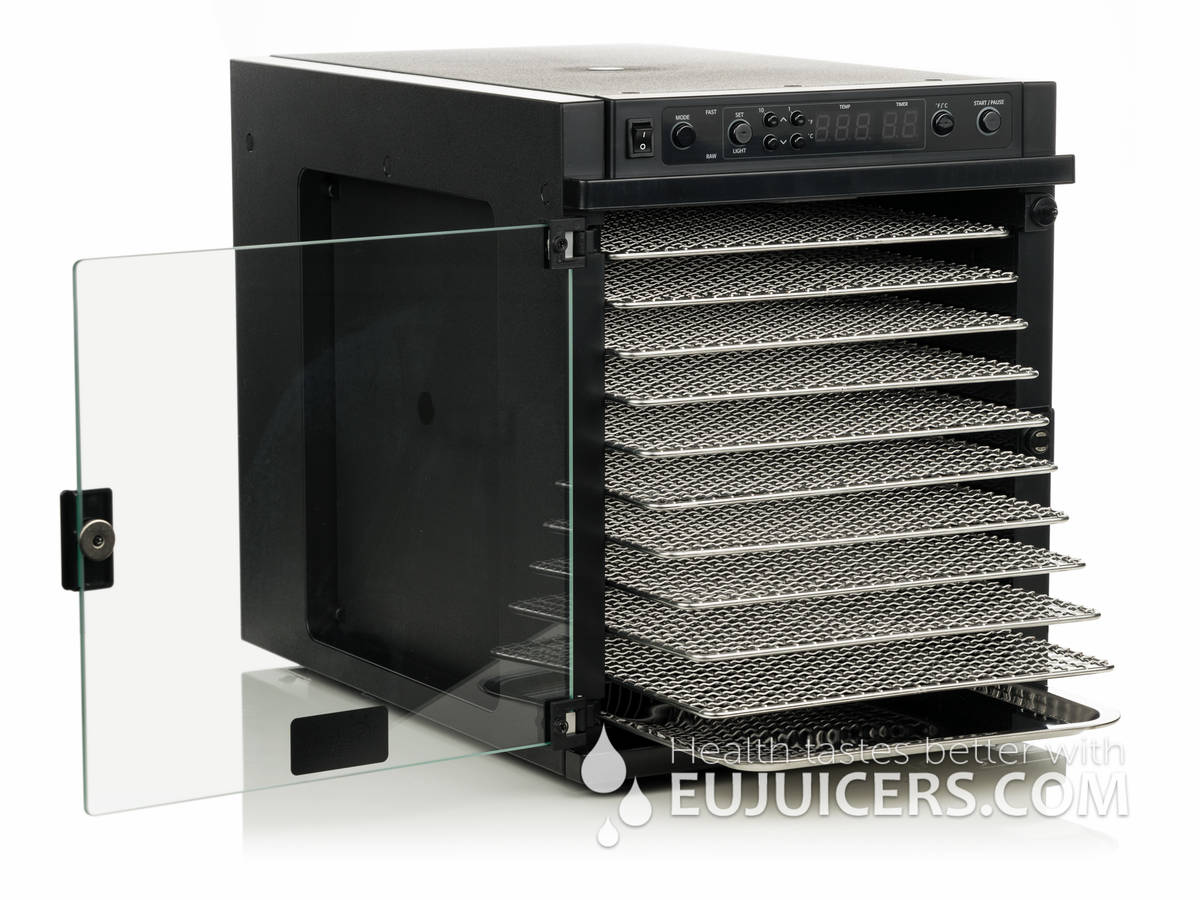 Sedona Express SD-6780 dehydrator
Stylish dehydrator with drying area of 0,92 m2 and stainless steel trays (black, 11 trays, timer).
Availability
Delivery by 25.6.2019
Choose your gift
Peeler
High quality peeler for fruits and vegetables.
Product description
Sedona Express SD-6780 Dehydrator
The Sedona Express Dehydrator SD6780 is not only full-featured but compact, allowing you to dehydrate without worrying about taking up too much counter space. Its 11 trays can dehydrate plenty of food, and its large, central fan makes dehydrating a breeze. From fruits and vegetables to meats and crackers, the Sedona's central single-fan technology ensures even airflow and rapid dehydration.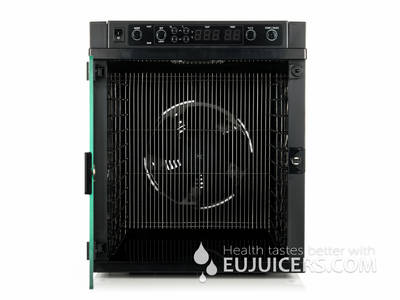 Sedona SD-6780 dehydrator fan
TST control
The Tribest Sedona Express allows you to set the temperature and timer using its user-friendly all-digital controls - precision dehydration has never been so easy. Get all these features without sacrificing kitchen counter space. Two-Stage Sequential Temperature-Timer (TST) reduces dehydration time and maximizes enzyme content in food. Sedona's advanced digitally controlled TST feature allows you to kick-start the dehydration process by starting at a higher temperature (FAST mode) for the first few hours, then automatically switching to a lower temperature (RAW mode) to finish off the job. The TST feature ensures that the temperature of the food does not go above the desired level, and results in nutrition-packed dehydrated recipes every time. 
Main features
11 Stainless Steel Dehydrating Trays - Deliver maximum performance without sacrificing drying space
1 Stainless Steel Closed Tray - To collect debris while dehydrating
Compact Design - Fits in any kitchen 
TST (Two-Stage Sequential Temperature Timer) Feature - Allows you to kickstart the dehydration process at a higher temperature and then automatically lower the temperature to finish off the dehydration process. The automatic settings of the TST allow for faster dehydration times while still preserving precious enzymes and nutrients.
All-Digital Controls & Displays - Precision control of temperature and time located at the front of the unit for easy operation
Max Temperature of 75°C - that conforms with USDA Beef Jerky Preparation Guidelines. This allows the user to safely cook beef jerky directly in the Sedona Express without the need to precook in the oven.
It has an operational range of 25 - 75 degree of Celsius
Washable and Reusable Air Filter - Save money and add convenience
Powerful Central Fan - For an even dehydration process
Overheat Protection & Continuous Operation Mode - Prevents enzyme degradation by allowing you to set maximum temperatures instead of average temperatures. Continuous Operation allows the user to dehydrate any desired recipe for up to 99 hours at a time.
Glass Hinged Door with Internal LED Light for Easy Monitoring and Insertion/Extracton of Trays -  The transparent glass door and internal LED light let you easily check the progress of your food throughout the dehydration process. The side hinged configuration allows for easy insertion/extraction of trays.
Quiet Operation
Non-flammable and BPA-Free Plastic Body
Parameters
Manufacturer

Color

Stainless steel

Country of origin

Korea

Timer

Yes

Dimensions

35,6 x 30,5 x 44,5 cm

Weight

10 kg
Number of trays

11 pcs

Tray area

25,4 x 33 cm

Drying area

0,92 m2

Warranty (motor / parts)

60 months
Any question
to related product?
Ask us now in discussion.
Discussion
Any question
to related product?
Ask us now in discussion.