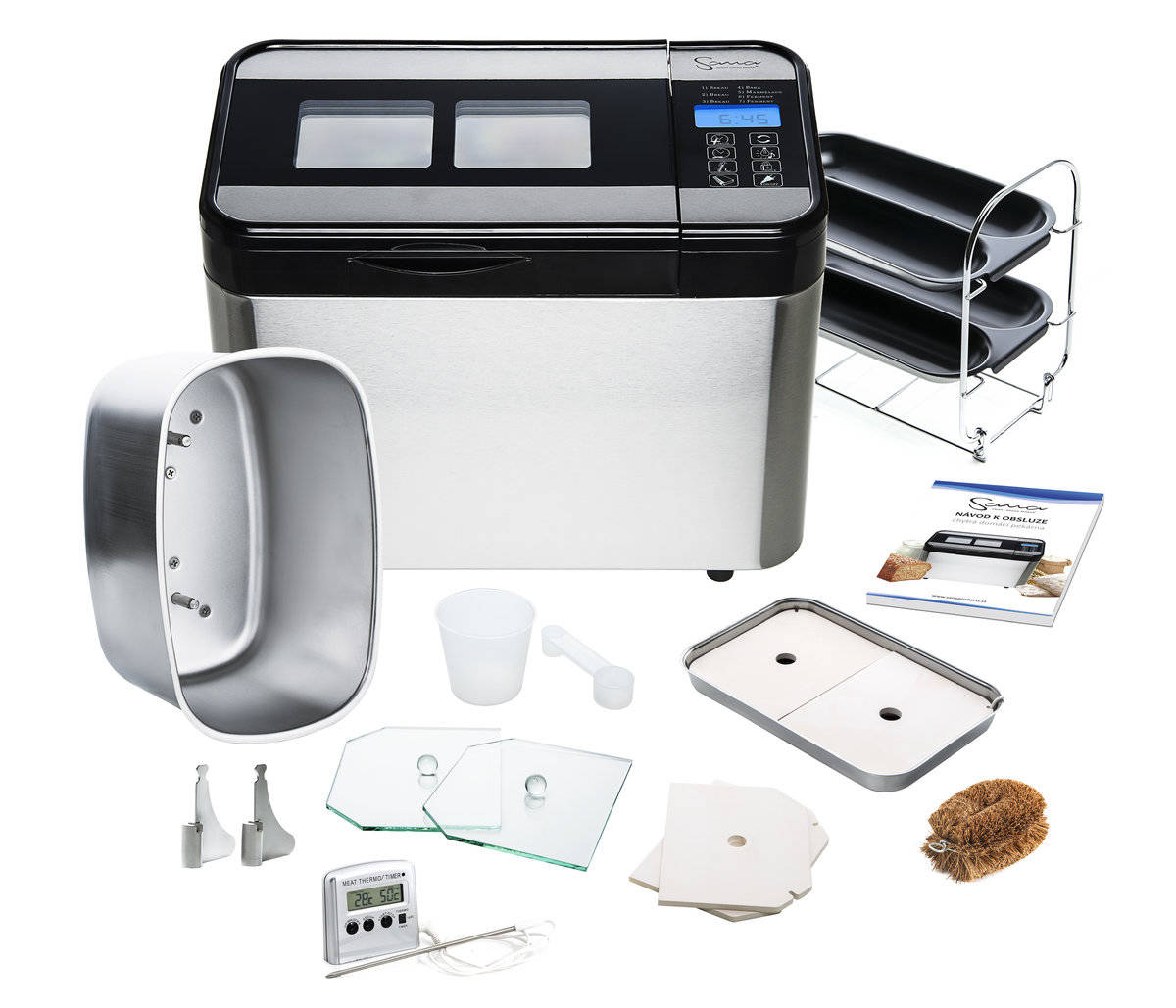 Sana Smart Bread maker (exclusive)
The exclusive model comes with stainless steel pan and kneaders, glass lids, tempeh set, baguette rack and pans, and a multi-thermometer.
Choose your gift
Sana Digital Kitchen Scale
Compact digital scale with an elegant design.
Sana Digital Kitchen Scale
- large LCD display
- high precision strain gauge sensor
- calendar / clock / alarm clock / thermometer / hygrometer
- measures the volume of water and milk
- two unit systems: g(kg)/lb
- can zero out the weight of the container and allow exact measurements
- overload indicator / low battery


Technical specification
- Max. load capacity: 10 kg
- Power supply: 2 x 1.5V AAA (not included)
- Color: white
- Dimensions: 220 x 175 x 19 mm
- Weight: 530 g
- Materal: tempered safety glass
- Warranty: 2 years
Cleaning brush
Cleaning brush for fruits and vegetables.
Lifelong service free of charge
All service labor needed for the lifetime of the product is free of charge.  Only spare parts need to be purchased.
Free shipping to continental EU countries
Free shipping to all continental EU countries. For other countries, shipping costs will be shown in the cart.
Product description
Sana Smart Bread maker (exclusive)
Sana" is Latin for "healthy". The multifunctional Sana Bread Maker is a great way to make your own healthy and delicious food.
The Sana Smart Bread Maker is the result of 20 years experience in bread baking. We have developed a unique multifunction home bread machine which we feel is the best on the market. This isn't just an empty claim – take a look for yourself at all the things you can do. It is available in three models - basic, standard, and exclusive. The machine itself is the same in all three models - the only difference is the included accessories. The exclusive model comes with all accessories.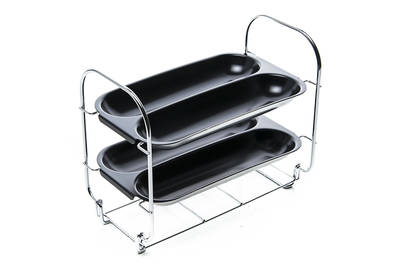 Sana Smart Bread Maker baguette pan
Baguette rack and pans included with the Exclusive model
For delicious baguettes, you don't need to move to France. You can make them yourself with the baguette maker attachment. Included with the "Exclusive" model, the baguette maker includes a rack and four baguette pans. It can also be used as a holder for tempeh bowls, or inverted and used as a base for pans or containers (for example, when making yogurt).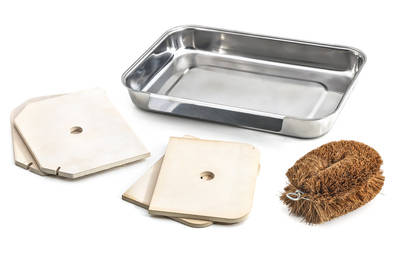 Sana Smart Bread Maker tempeh set
Tempeh set included with the Exclusive model
The Exclusive model comes with a unique stainless steel tempeh pan with special porous lids to allow precise low-temperature fermentation of tempeh.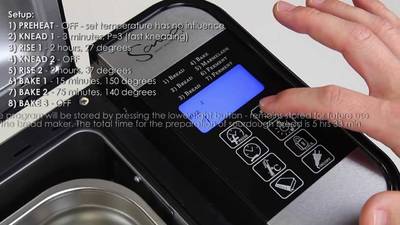 Sana Smart Bread Maker display
Fully adjustable programs
Fully adjustable programs provide a way to bake bread exactly to your liking. Flour of different grains have very specific characteristics and require different baking and rising times. The SANA bread maker offers 7 basic programs. However, they are are all easily adjustable. By editing and saving them, you can create other new programs. The possibilities are endless.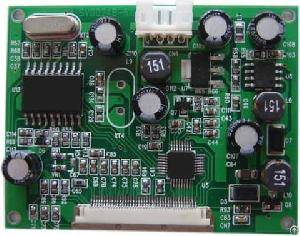 Sana Smart Bread Maker pcb board
Programmable technology
The multifunction SANA Bread Maker has two memory chips and its software can be easily updated. This means you can try different programs and save the ones you use the most. The electronic "heart" of the bread maker is produced in Europe and is unlike any other bread machine in the world. Being able to choose your own multiple baking and rising times and temperatures gives you complete flexibility. You don't need to buy a new machine whenever a new program comes out.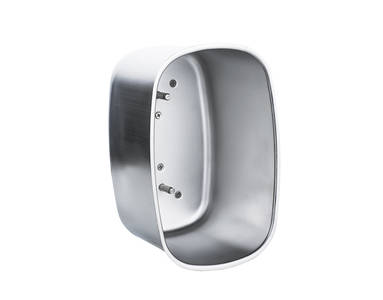 Sana Smart Bread Maker bread pan stainless steel
Unique stainless steel bread pan and kneaders
The Sana Smart Bread Maker standard model comes with a stainless steel bread pan and stainless steel kneaders. Through the use of professional baking technology, it´s possible to bake in stainless steel baking pan which doesn't need to be greased. This keeps the bread from burning. With stainless steel, you can be sure your bread is baked in the safest manner possible.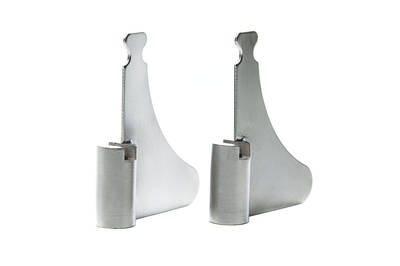 Sana Smart Bread Maker kneaders stainless steel
Kneaders and automatic batch processing
Some bread makers offer folding kneaders or automatic adding of seeds or nuts. The Sana Smart Bread Maker offers a much simpler solution: high-speed kneading! With high-speed kneading, the dough for your bread will be ready in three minutes! After that you can immediately remove the kneaders from the dough, instead of after the bread has been baked. Do you like seeds or nuts spread on top of the bread? Add these by hand after 3 minutes of kneading and you are able to spread these equally all over the bread. This way you always have perfect results.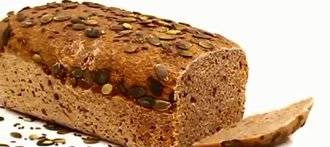 Sana Smart Bread Maker bread
Multiphase rising
Multiphase rising allows you set two separate rising times and temperatures. One benefit of this is that you can easily prepare homemade yeast. This is the best yeast you can possibly have - far better than what you'd get at the store. In addition, you save time and energy because you don't have to preheat the bread maker or set a delayed start.
Versatility of Sana bread maker
Tempeh and Natto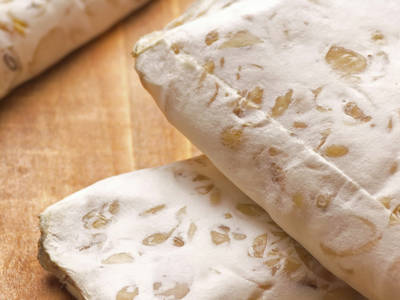 tempeh cheese
Tempeh is a traditional Indonesian food known for both its health benefits and its unique walnut-mushroom flavor. It is typically made from soybeans, but can also be made from many other foods such as beans, sunflower seeds, peanuts, peas, rice, and wheat. Previously known mainly among vegetarians and vegans, it is now becoming more widespread and popular. It can be found in most health stores, and is gradually beginning to appear in more mainstream supermarkets. Tempeh is available unflavored, as well as marinated, smoked, and pickled.
Home made yogurt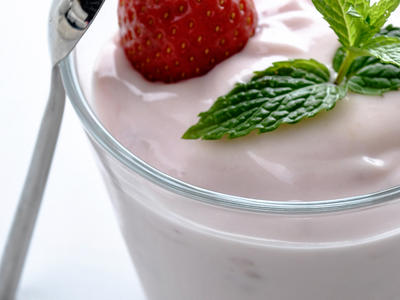 yogurt
Have you ever heard of the term "functional" foods? These are food products which, either naturally or artificially, have been enriched with healthy additives. The most widespread functional food in the world is yogurt which naturally contains probiotic bacterial cultures (Lactobacillus and Bifidobacterium). Because these cultures regulate digestion and help prevent colon cancer, yogurt is considered a superfood which should be eaten daily.
Jam, tea and purees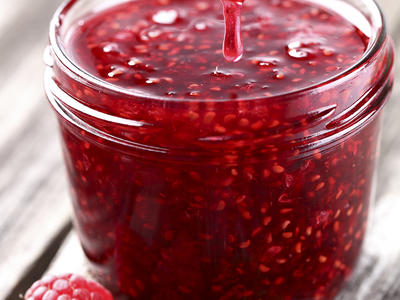 jam
Most bread machines are able to make jam, but this feature is something most consumers never use. It's too bad, since it's so easy to do that most people who've tried it never go back to the traditional method of making jam. All you do is put the ingredients into the pan, set the program, start it, and come back later to freshly-prepared jam. The bread maker mixes and cooks the jam for you, and you don't end up with a stack of dirty pans to clean. This program also can make lard, pig cracklings, jelly, tea, and purees.
Bread Makers
Home made bread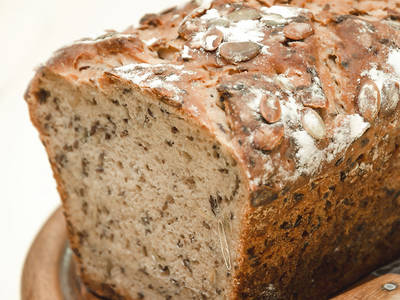 5462-sana-bread
There are many reasons for baking bread at home, but the main ones are that you can use your own choice of ingredients and that homemade bread just tastes so much better than store-bought bread. Home-baked bread won't have any of the chemicals or additives of store bought bread, and it won't contain the ground remains of old bread like you can find in store-bought bread. Bread made from sourdough starter, instead of from yeast, has better flavor, aroma, and health benefits.
Meat and fish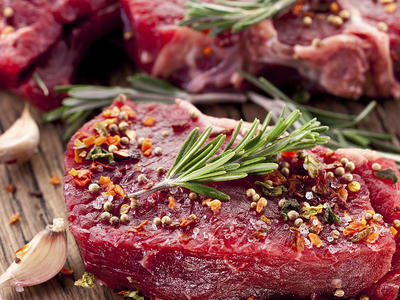 meat
The Sana Smart Bread is useful not just for baking bread, but as a substitute for a conventional oven. Meat and fish cooked in the Sana Smart Bread Maker are flavorful and juicy, which can't always be said when using a conventional oven. By using a glass lid with the Smart Bread Maker, the cooking time is shortened and the meat comes out incredibly moist and delicious.
Amasake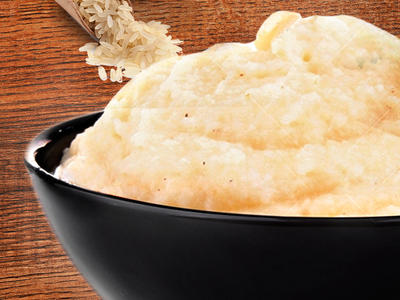 5464-amasake
Amasake is a thick and creamy traditional Japanese dessert made from fermented grains. Popular among those who follow a macrobiotic lifestyle, this creamy dessert can be enjoyed by anyone. It doesn't contain any refined sugars or sweeteners, but gets its sweet taste from the natural fermentation process which breaks down the complex sugars. When you first taste this healthy dessert, you'll think that someone has put sugar into it, but it really is natural.
The main features
Stainless steel baking pan and kneaders
Programmable technology
Fully adjustable programs
Multiphase rising
Low-temperature baking
Pasteurization
Saves time and energy
Simple to use
Durable
Note: because the software and programs are constantly being updated, there is no printed manual included in the box.  Click here for the user manual. If you are searching for specific recipes take a look at the recipe book here.
Parameters
Manufacturer

Color

Stainless Steel

Country of origin

EU / China

Material of bread pan / kneaders

stainless steel

Number of programs

7

Number of kneaders

2 pcs
Temperature range

20 - 230 °C

Bread capacity

500 - 1.700 g

Dimensions

30 x 40 x 22,5 cm

Weight

10 kg

Warranty (motor / parts)

24 months
Any question
to related product?
Ask us now in discussion.
Discussion
Any question
to related product?
Ask us now in discussion.