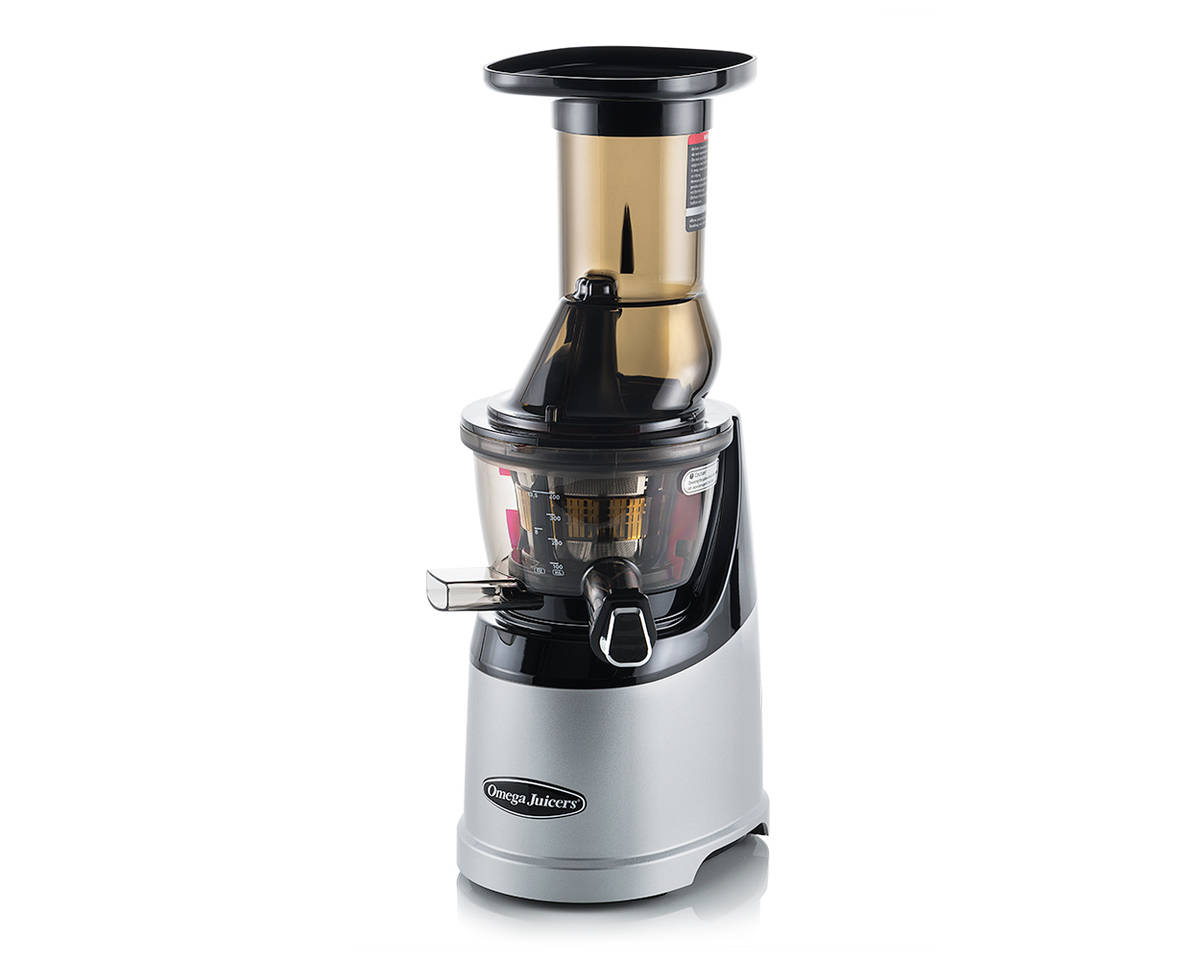 Omega MMV-702 MegaMouth vertical juicer (silver)
Probably the easiest juicer to use. Huge feeding tube, powerful motor, and Omega quality.
Availability
Delivery by 28.8.2019
Choose your gift
Gloves for cleaning vegetables
Use to remove dirt and loose skin, rinsing and cleaning carrots, parsley root, turnips, and many other vegetables.
Sana Digital Kitchen Scale
Compact digital scale with an elegant design.
Sana Digital Kitchen Scale
- large LCD display
- high precision strain gauge sensor
- calendar / clock / alarm clock / thermometer / hygrometer
- measures the volume of water and milk
- two unit systems: g(kg)/lb
- can zero out the weight of the container and allow exact measurements
- overload indicator / low battery


Technical specification
- Max. load capacity: 10 kg
- Power supply: 2 x 1.5V AAA (not included)
- Color: white
- Dimensions: 220 x 175 x 19 mm
- Weight: 530 g
- Materal: tempered safety glass
- Warranty: 2 years
Peeler
High quality peeler for fruits and vegetables.
Cleaning brush
Cleaning brush for fruits and vegetables.
Vacuum Jug (1 liter)
For storing freshly squeezed juices.
Citroclean cleaner 1l
Special cleaner for cleaning juicers and citrus juicers.
It´s not possible to send this product outside of EU, Norway, Switzerland and Cyprus.
Product description
Omega MMV-702 Mega-Mouth vertical juicer
Omega makes low-speed juicing fast, with the new MMV-702 MegaMouth low speed juicer and nutrition system. Combining traditional Omega quality with several innovative features, the MMV-702 MegaMouth juicer is the fastest and most convenient cold-press juicer we have tested.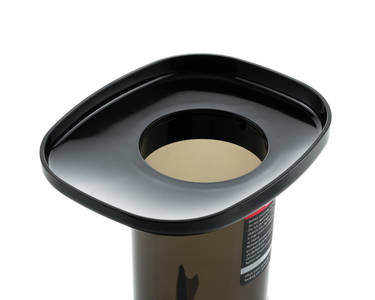 Omega MMV-702 MegaMouth vertical juicer hopper
Mega mouth and motor
The 76 mm wide feeding tube is the biggest in its class. It can easily handle whole oranges and apples. A wide feeding tube means less time spent cutting fruits and vegetables. A 240 watt brushless AC motor supplies an abundance of torque. This allows the MegaMouth juicer to effortlessly crush produce.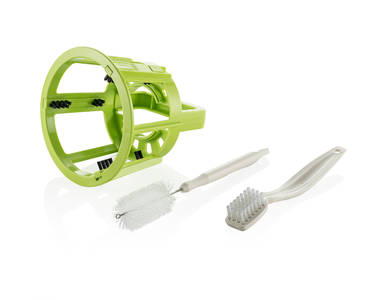 Omega MMV-702 MegaMouth vertical juicer brushes
Gentle and quiet
Operating at a gentle 60 rpm, the MMV-702 not only extracts the most juice from fruits and vegetables, it also ensures the highest levels of vitamins and enzymes in the juice. The brushless motor not only means lots of power, it also means whisper-quiet operation. Now you can juice anytime without causing inconvenience to others in the room. An integrated set of wiping blades constantly clean the juicing screen during operation, making cleanup fast and simple. And the included juicing screen cleaning tool quickly gets rid of any leftover pulp.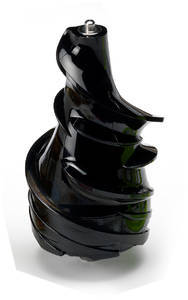 omega mmv auger
Gentle juicing for the best nutrition
The Omega MMV702 Juicer has a newly-designed auger that turns at a gentle 60 rpm. It chews produce into tiny pieces as they travel down the auger, and then presses those tiny pieces against a juicing screen. This separates the pulp from the juice without the oxidation found in higher-speed juicers, keeping all the important vitamins and enzymes. It also means practically foam-free juice. Best of all, cold-pressed juice tastes incredible! Another benefit of the slow but powerful motor is the sound - actually the lack of sound. The motor is so quiet you can juice without disturbing others in the room.
Main features
Cold-press juicing system minimizes foam and oxidation
60-rpm quiet operation
Powerful 240-watt brushless motor
Extra-wide whole-fruit feeding tube
Integrated cleaning system
Optional homogenizing screen for nut butters, almond milk, sorbet, and more
Optional smoothie screen to mix milk with soft fruits
Integrated juice tap for mixing juices and easy cleanup
BPA-free
Made in South Korea
Parameters
Manufacturer

Color

Silver

Country of origin

South Korea

RPM

60 RPM

Power

240 Watts
Dimensions

45 x 21 x 23 cm

Weight

6.9 kg

Warranty (motor / parts)

120/36 months

Juicing Process

Single auger
Any question
to related product?
Ask us now in discussion.
Discussion
Any question
to related product?
Ask us now in discussion.