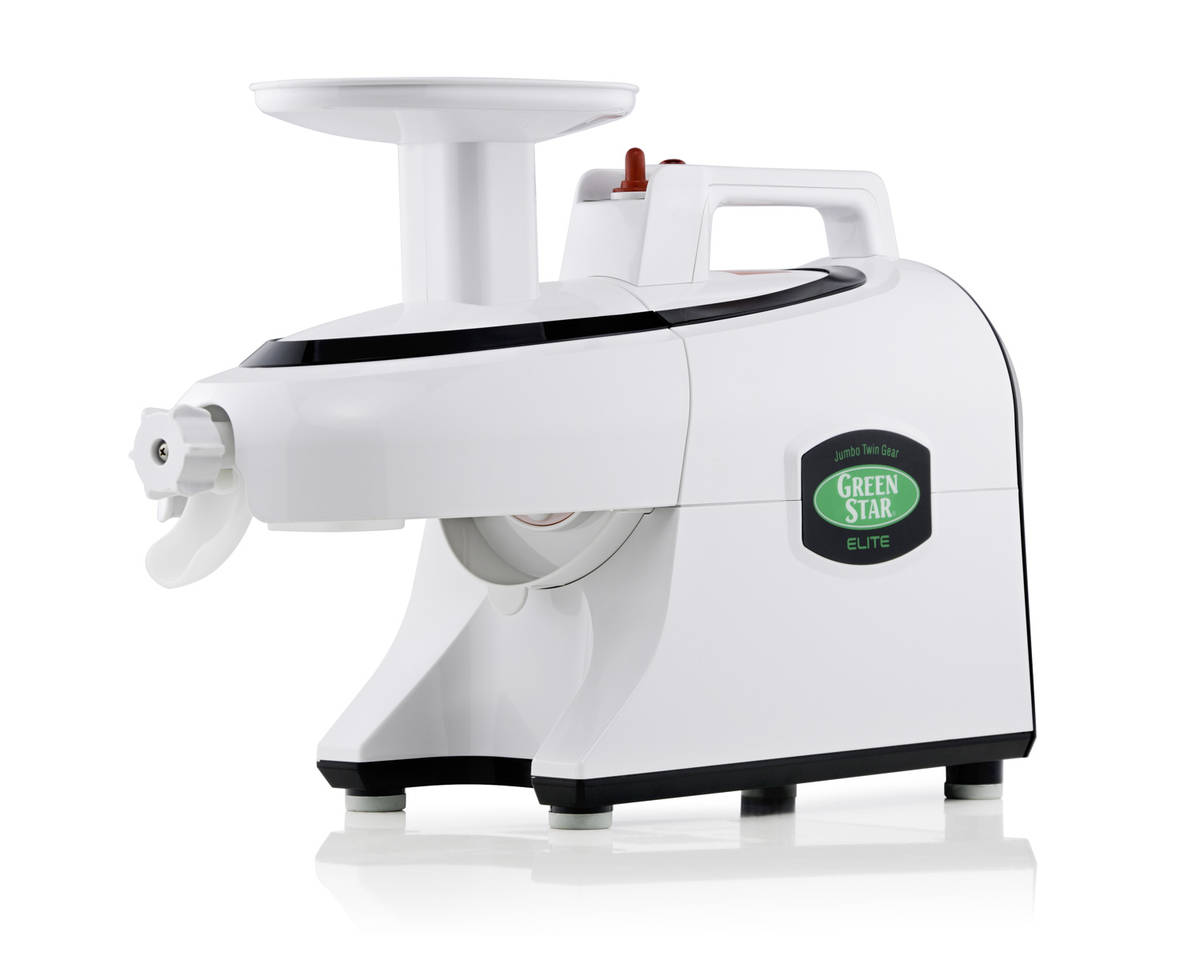 Green Star Elite Juicer
The next generation of the big Tribest twin-gear juicer.
Availability
Delivery by 3.6.2019
Product description
Green Star Elite twin gear juicer
Tribest's flagship juicer, the Green Star Elite has been redsigned with a myriad of improvements. And it does more, too. Now, even the puree of fresh or frozen fruit (sorbets) is easily made with your Green Star Elite juicer. Especially delicious treats are made from nuts and dried fruits.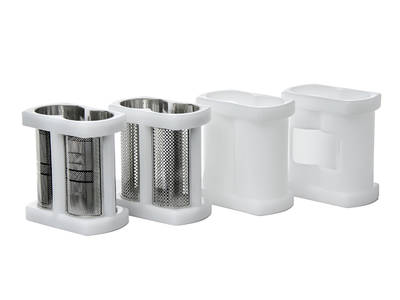 Green Star Elite Juicer screens
Makes great juice and more
Equipped with four different screens to for your juice and food adventure, the Green Star Elite is a very versatile machine. It includes the fine screen to extract juice with minimal pulp; the coarse screen to extract juice with more pulp mixed in and for softer fruits; the homogenizing screen for basic food processing; and the breadstick (mochi) maker set to make delicious raw breadsticks and rice cakes. Not only is Green Star Elite a fine juicer, but it is also a great food processor, making favorites like almond and date pie crusts, spreads from nuts and vegetables, sauces from a wide array of ingredients, baby foods, frozen fruit desserts and more.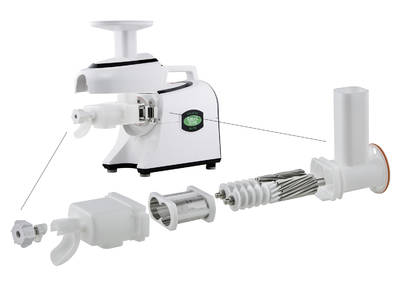 Green Star Elite Juicer assembly
Improved performance
Improving on the performance and versatility of the previous Green Star, the Green Star Elite features advanced three-stage juicing technology. Using Exclusive Heavy Duty Jumbo Twin Gears, the Green Star Elite separates the juicing into crushing, mixing, and pressing stages for higher juice yields and nutritional value from your fruits and vegetables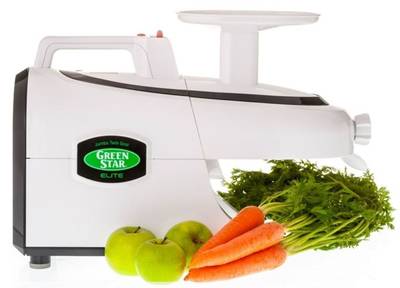 Green Star Elite Juicer design
Sleek new design
The Green Star Elite's sleek new design will complement your modern kitchen. Hidden under the sleek new case are the newly designed stainless steel and nylon jumbo twin gears, which rotate in opposite directions to create an extremely high-quality juice. Other improvements include a safety interlock switch to prevent operation when the front cover is off and a simpler pulp regulation pressure control.
Main features
Twin gears made from stainless steel and nylon
Magnetic augers for enhanced nutrition
Easy to operate and clean
Precision balanced motor for quiet juicing
Excellent for wheatgrass
Four screens for vegetables, fruits, homogenizing, and breadsticks
Slow 110 rpm to minimize oxidation
Produced in South Korea
Parameters
Manufacturer

Color

White

Country of origin

South Korea

RPM

110 RPM

Dimensions

31.7 x 46.4 x 17.5 cm
Weight

8 kg

Warranty (motor / parts)

60/60 months

Juicing Process

Twin gear
Any question
to related product?
Ask us now in discussion.
Discussion
Any question
to related product?
Ask us now in discussion.